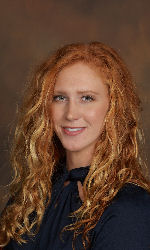 Contact
Cell (763) 516-2698
merissa@dwellrealtypartners.com
Bio
Out of college, I got a nice desk job. It had a big office with a nice big window and seemed to be the perfect job. After a few years of being bored doing the same thing every single day, my entrepreneurial spirit begged me to thrive. At that time, I said goodbye to my desk job and started my company Homes by Red.
Remodeling homes was a blast, but I had decided that I also wanted to help people find the perfect house for them. I essentially became a real estate agent not only for my business, but to also help people. Bringing someone a place to call home is such a rewarding experience and that is exactly why I love working for Dwell. You are not simply another number to help them get to the top. Dwell cares about their clients and makes the process seamless.
I strive to make sure each client truly loves looking for their next place to call home and the relationship between myself and every client is extremely important for me. Who says you can't love what you do and have fun doing it?!? Well…at least I can say that I do truly love what I do!
When I'm not working…
I spend most of my time outdoors. I have five horses and I barrel race two of them. This keeps me very busy and has taught me the importance of hard work. If I am not riding, I love being out on my boat wake surfing or traveling to fun new places. I live for adventure because life is too short not to enjoy it.