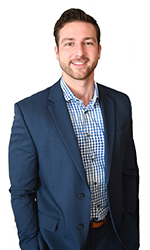 Contact
Cell (952) 594-4486
Bio
After attending the University of Colorado in Colorado Springs, I decided that 20+ years in Minnesota wasn't enough and made the move back to where I was born and raised. Pursuing a self-driven career with endless opportunities to positively impact the lives of others brought forth a world of eye-opening experiences. As my knowledge in the industry and my passion for it have grown simultaneously, real estate has quickly become one of my greatest passions!
Having served in the Army National Guard, I take pride in describing myself as a motivated, competitive individual, passionate about serving others. Something that I learned in the military that followed me into my real estate career is this, "Proper Prior Planning Prevents Poor Performance." Contrary to society's belief, the process behind buying or selling a home isn't always as seemingly effortless as the HGTV shows portray it to be. That being said, a little upfront planning can make all of the difference to ensure a positive experience and successful outcome. I want your ultimate scenario to become your reality; for you to find your dream home for whatever stage of life you are currently in. Whether you're buying, selling, or investing in your first, second, or tenth home, my goal is to lead you through the process and help you get from where you are to where you want to be.
When I'm not working…
I can be found camping up north, writing at a local coffee shop, or taking a road trip out west to my second home and getting "lost" in the mountains. In addition to having a career in real estate, I can be described as a fitness enthusiast, frequent traveler, future author, and avid lover of everything outdoors. My goal is to build a referral-based business, to serve you in such a way that you will feel cared for throughout the process and trust me with bringing the same service to your friends and family.