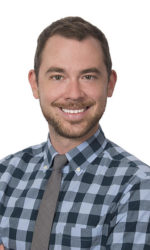 Contact
Cell (612) 432-1861
Bio

I first discovered my love for all things real estate when I found myself addicted to playing The Sims and Sim City as a teenager. There was something about creating homes and communities that really struck a chord. Fast forward to 2012, when I got my real estate license and started working in Property Management. During my 5 years in commercial Property Management, I was fortunate enough to manage and transform properties throughout the metro area while developing relationships with tenants, vendors, and owners.
I was approached by a major real estate company and decided to join their team as a Realtor. I liked the idea of being able to help people with an essential part of their life – a place to live. To me, the thought of being the facilitator for such a monumental event in their lives meant more than any responsibility I had prior. I was also born and raised in Minneapolis so I was excited to use my in-depth knowledge of the city and metro to help other people become familiar. I hit the ground running and learned as much as I could. After a year, I was approached by Matt with Dwell Realty Partners and I found that their perspective was one that really resonated with me and I made the switch.
My philosophy is simple – I want to be your advocate. We all have enough going on in our daily lives and my job is to alleviate as much stress as I can when you decide to buy or sell a house. You won't feel like you are simply a "transaction" as I'll be honest and keep you updated every step of the way. Let's work together to make your housing dreams a reality.
When I'm not working…
I love to travel! I'm obsessed with different cultures and experiencing how those cultures live. I have an innate need to immerse myself in things that are unfamiliar to me. I currently have a list of 30 cities to visit and I hope to hit them all within the next 5 years. Besides that, I like to attempt voice-over work. I work with a local agent and audition regularly. Lastly, my family is near and dear to me and I spend as much time with them as I can.