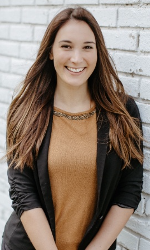 Contact
Cell (612) 710-6261
Bio

As Transactional Marketing Coordinator, Kim is responsible for managing paperwork and meeting deadlines involved with all real estate transactions. Kim focuses on every step of the selling process and monitors progress from the beginning of all offers to the end. Kim also helps manage social media platforms, advertising campaigns, and promotional materials.
She holds a degree from Concordia University, St. Paul in marketing. Eager to tackle the business world, she worked with a leading commercial real estate company. Working in the corporate world gave Kim experiences in a variety of areas such as understanding how to communicate, efficiently working with clients, and time management.
"I loved the business world, but there is just something about working with people every day that excites me. I have always been passionate about marketing or the idea of taking a product or service and finding ways to promote it to potential customers."
Real estate has intrigued Kim because of the personable connections with people. She is committed to helping people set their goals and successfully reach them.
When I'm not working…
I enjoy spending time with my husband Josh, family, and my nieces and nephews. I also love to play soccer, watch football, take road trips to explore different areas in Minnesota, and hang out with friends. In addition to that, I am a leader within my church on Sundays and Wednesdays every week.