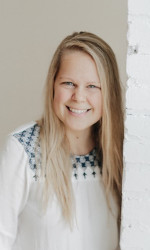 Contact
Cell (612) 219-7685
Bio
My journey to arriving in the real estate industry is unique. I have a degree from the University of Northwestern St. Paul in Early Childhood Development. I grew up playing school and wanting to be a teacher my whole life, aside from desiring to be a real estate agent for a couple years in my young teens. However, as babysitting became my primary form of income as a teenager, my desire to become a teacher settled at the forefront. My passion for homes and interior spaces never went away though – in fact, it drew me to increase the number of families I babysat for so that I could see the interiors of their homes! A little creepy? Maybe…
Until recently, I hadn't seen the connection between these 2 passions of mine – real estate and teaching – but the connection between them excites me to no end! I believe that the focus of real estate should not be on selling houses, but rather educating people on both the positives and negatives of a home, allowing individuals to make informed decisions about where they desire to live. In this way, I am delighted to use the tools and skills I gained from my teaching experience as I work passionately with clients in the real estate field.
Further, I believe my unique background provides me with "a fresh perspective" – that which is the heart of Dwell Realty Partners' mission. My experiences outside of the realm of real estate offer you and me a fresh perspective at the buying and selling process as a whole. When our journeys collide in this process, expect to experience all the excitement you hope for and imagine in the world of real estate!
P.S. Search the hashtag #soldsignselfies on Instagram and Facebook to witness the excitement and join in on the party!
When I'm not working…
I enjoy jet skiing, kayaking, and boating with my husband, swimming, gardening, biking, swinging – basically anything that has to do with the sun and warm weather!